Introduction
Welcome to The Toy, a Betfair betting & trading application. It has been designed in such a way as to make it simple and easy to use but at the same time take advantage of numerous new innovative and powerful features. Please read all of the sections in "Getting Started" before using the application.

When the application first opens, it shows the Main Info Bar, this enables you to quickly navigate to markets by using the Market Navigator window.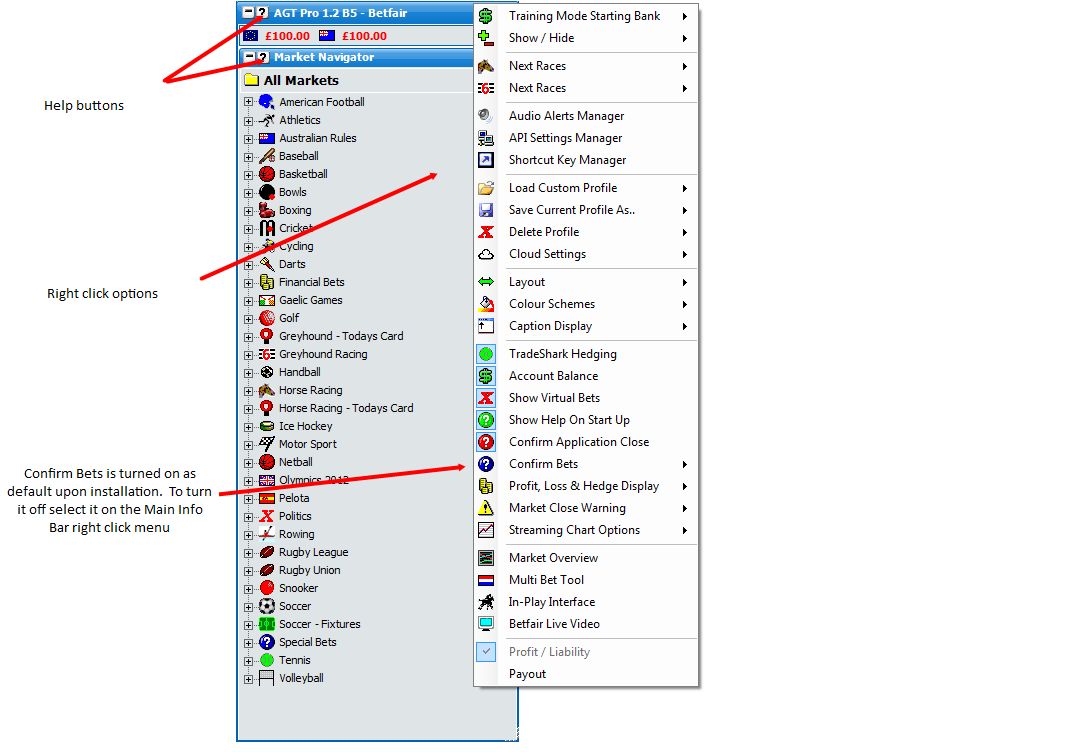 Right Mouse Button
A key design feature of the application is the use of your right mouse button. Throughout the application the right mouse button has numerous functions thus hugely improving your speed and ability to trade and use the application.
Help Files
There is a detailed user manual for the application with each section of the application and the accompanying menus and options explained. These help files can be viewed by clicking on the help button of the relevant window, or by selecting "Control Help" in the drop down box above this page.

It is suggested that once familiar with the application, you look at each window's help file to see all the features available. If you are going to use the application, please ensure you have a good understanding of the Betfair sports exchange.

The application default settings are set as such so that those used to the Betfair website and other trading applications should be able to use it straight out of the box.

Support
Limited support will be provided for the application via the chat forum. This can be accessed by selecting "User Forum" from the left drop down box above this page.
Disclaimer
This application cannot make you money on Betfair. With skill, patience, the right mindset and an understanding of the markets, it may be possible for you to make money.

Trading on Betfair is gambling. Instead of gambling on the outcome of the market, you are gambling on whether the price moves up or down. If you are new to Betfair, start by using small stakes until you can make money, and never play with any money you cannot afford to lose.

Warranty
No warranty is given. Use of the product is therefore wholly at your own risk. You should not play with any large amounts of money, unless you are both confident in the use of the application, and the application is stable on your computer.